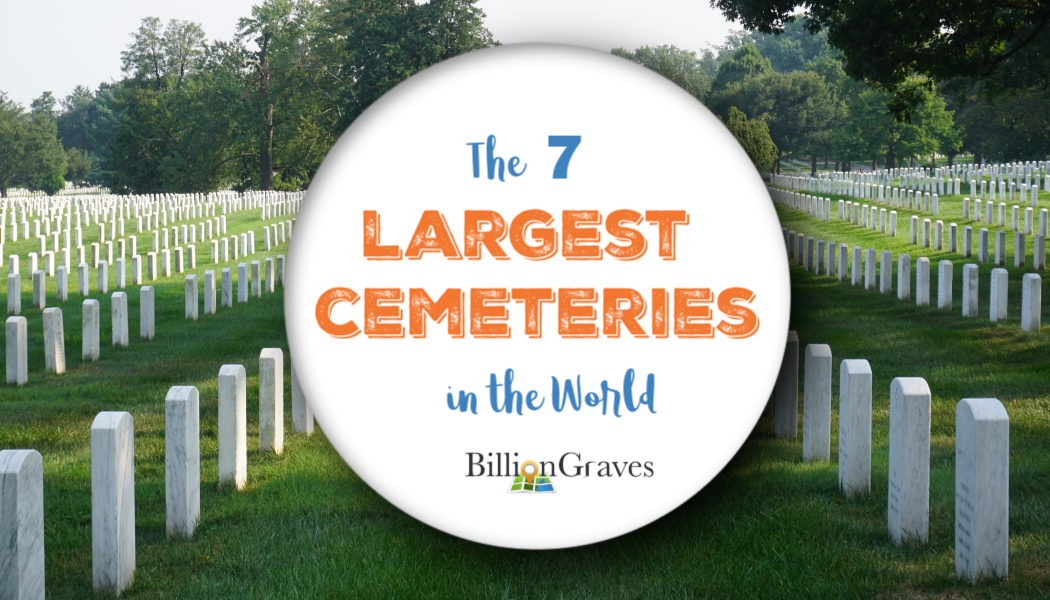 The 7 Largest Cemeteries in the World
Cathy Wallace, 3 years ago
11 min

read
85947
The seven largest cemeteries in the world are worth a visit – even if it is a virtual one! They come in all varieties from those that are packed-tight with crowded tombstones to others with park-like settings or those that seem to be outdoor art museums.
Explore them with BillonGraves, the world's largest GPS-linked cemetery resource.
# 7 of the Largest Cemeteries in the World:
Spring Grove Cemetery
Cincinnati, Ohio, United States
Spring Grove Cemetery, the 7th largest cemetery in the world is a 733 acre nonprofit garden cemetery and arboretum. In 1844, the Cincinnati Horticultural Society decided to form a cemetery association.
Being a group that loved flowers, trees, and plants, they looked to other garden cemeteries around the world for inspiration, such as Père Lachaise Cemetery in Paris and Mount Auburn Cemetery in Cambridge, Massachusetts.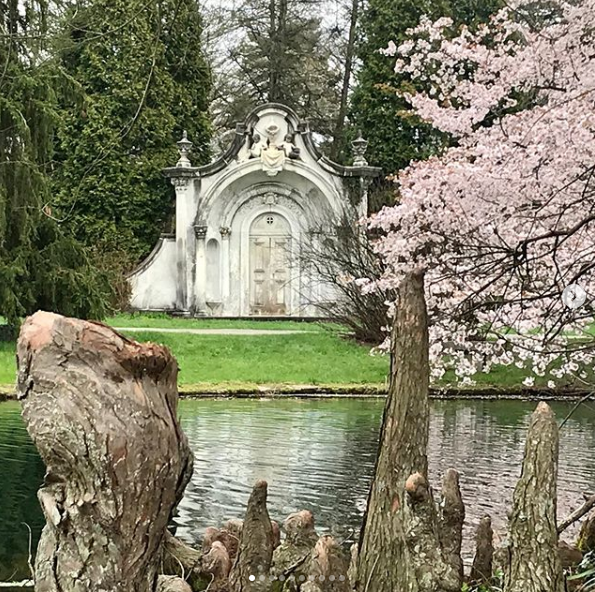 The Cincinnati Horticultural Society purchased land that was covered with groves of trees and had many natural springs, hence the name chosen for the new cemetery was Spring Grove.
Spring Grove welcomes visitors to experience more than 44 miles of winding roads, 15 lakes, a 10-acre woodland preserve, beautiful sculptures, and amazing architecture.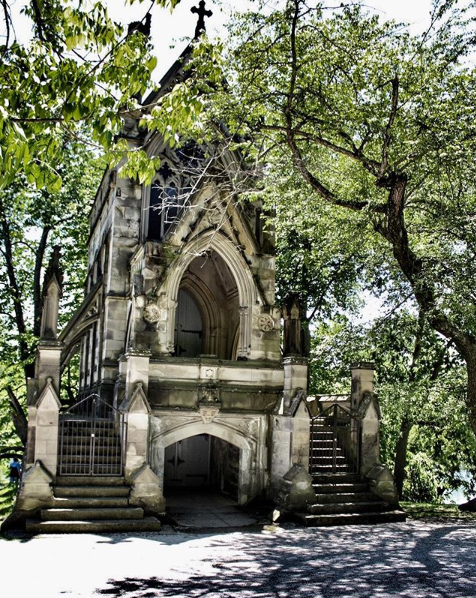 Arboretum
The arboretum at Spring Grove has more than 1,200 species of plants, most of which are labeled for study and research purposes. This makes the cemetery a popular destination for university students, botanists, and nursery growers.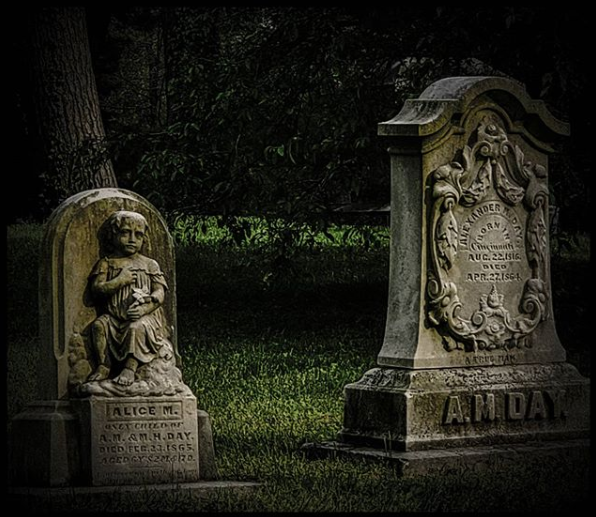 Notable Burials
Some families have entrusted Spring Grove Cemetery with their family legacies for up to seven generations. People from all religions, cultures, and walks of life are buried here.
Some of the notable burials include: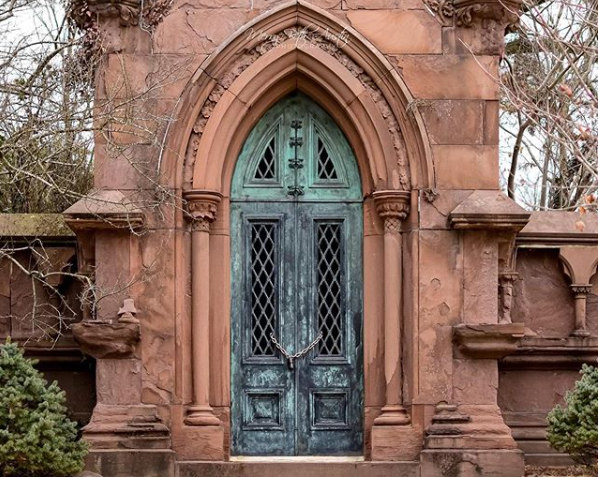 National Historic Landmark
In 2007, Spring Grove Cemetery was designated a National Historic Landmark, an honor held by only seven cemeteries in the United States.
# 6 of the Largest Cemeteries in the World:
Rookwood Cemetery
Sydney, New South Wales, Australia
Rookwood Cemetery, the 6th largest in the world, was established in 1867 to meet the needs of Australia's Sydney residents. As the city grew, burial grounds in Sydney were becoming overcrowded to the point that disease was threatening the living.
City authorities decided to purchase 200 acres (80 hectares) of land ten miles outside the city limits at Haslams Creek to establish a cemetery. Since that time, Rookwood has expanded to more than 750 acres (300 hectares).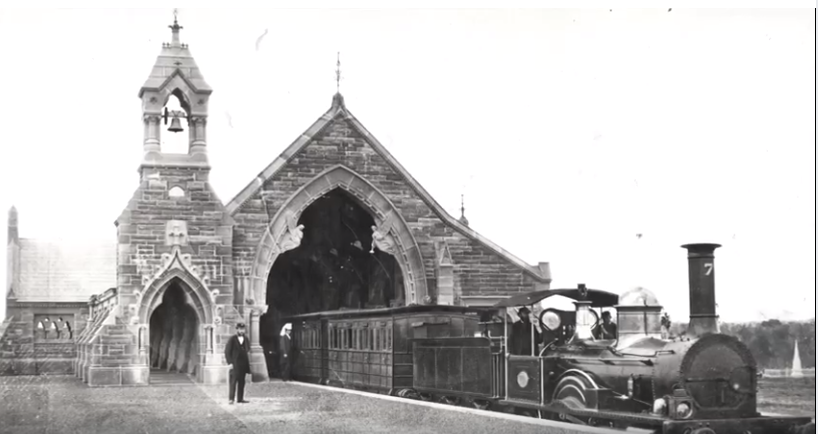 Cemetery Railway
One of the reasons the land at Haslams Creek was chosen was because part of the Sydney railway system ran to the area.
A railway station was then built at the center of the new Rookwood Cemetery. Special platforms and buildings were reserved for mourners and coffins at stations along the railway. The train continued to serve funeral attendees regularly until the 1930s.
To learn more about another cemetery railway in London, click HERE.
Rookwood Cemetery is so big that it had to be divided into sections many of which are managed by different organizations.
Religious Diversity
The sections are designated for various religious and non-denominational groups including Anglican, Jewish, Muslim, Catholic, War Graves, Quaker, Lutheran, Methodist, Presbyterian, and Independent. Some say that Rookwood may be the most diverse cemetery in the world and reflects the cultural diversity of Sydney itself.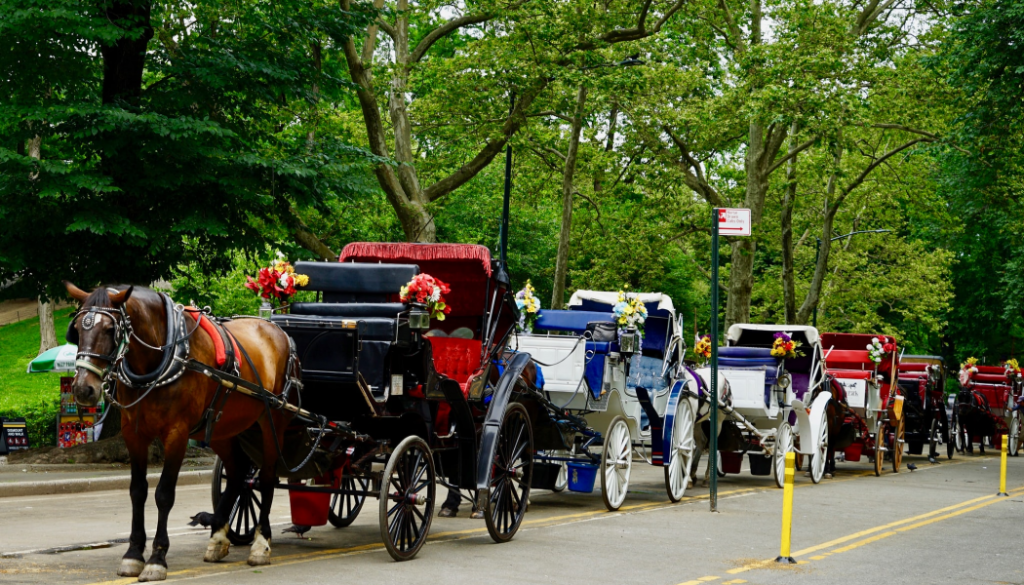 Rookwood Cemetery has hosted a wide variety of events including historic tours, talks and displays, grave-digging and stone masonry demonstrations, family history research, horse and carriage rides, mausoleum tours, live entertainment, children's activities, multi-cultural food fairs, parades, and sculpture walks.
# 5 of the Largest Cemeteries in the World:
Karacaahmet Cemetery
Üsküdar, Istanbul, Turkey
At 750 acres (300 hectares), Karacaahmet Cemetery is the 5th largest cemetery in the world. It is the oldest in Istanbul, having been established more than 700 years ago.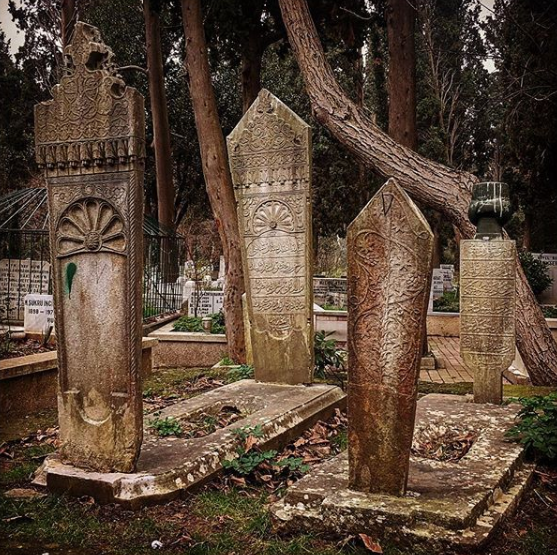 Ancient Ottoman Gravestones
Many of the ancient Ottoman gravestones can still be seen at Karacaahmet Cemetery with inscriptions in the Ottoman Turkish alphabet, which is a version of the Arabic alphabet.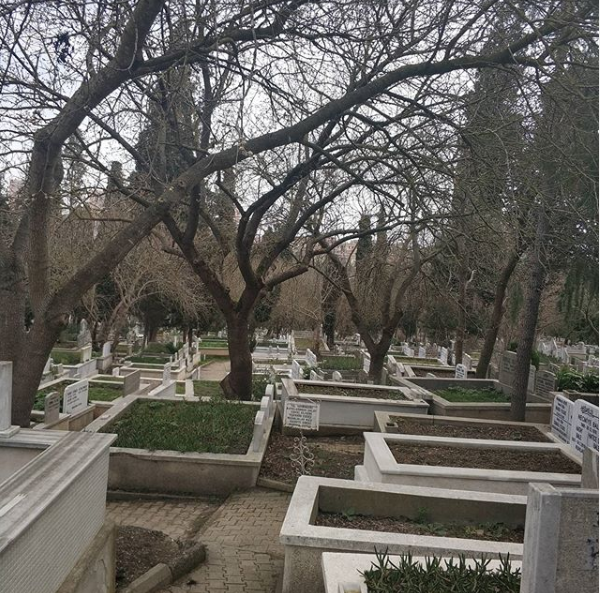 Twelve Cemetery Sections
Karacaahmet Cemetery is divided into twelve parcels, each dedicated to a different religious group. More than a million people are buried at this non-profit cemetery.
The sections are often divided by roads with heavy traffic or walls. In spite of the traffic, there are tall cypress trees throughout the cemetery that give privacy and make the setting peaceful.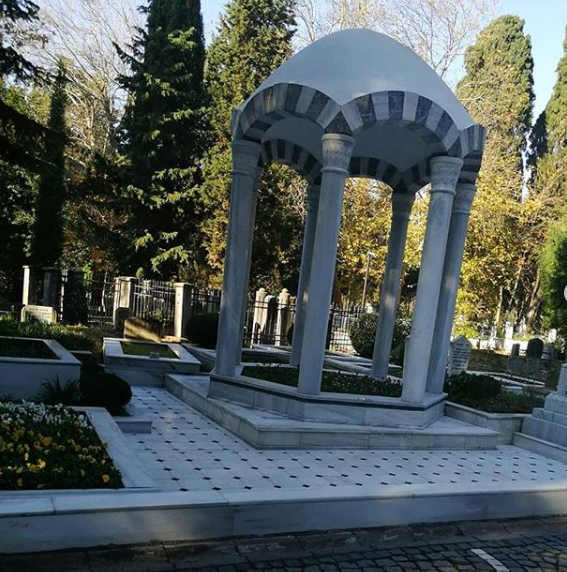 The cemetery is named for Karacaahmet, a war comrad of the second Ottoman sultan Orhan I.
Etiquette
Within the boundaries of Karacaahmet Cemetery is the Sakirin Mosque. Worshippers often pay their respects to the deceased. Etiquette for the cemetery is similar for inside the mosque where women are expected to cover their heads.
# 4 of the Largest Cemeteries in the World:
Ohlsdorf Cemetery
Hamburg, Germany
Ohlsdorf Cemetery in Hamburg, Germany, the 4th largest cemetery in the world, covers 966 acres (391 hectares) with 12 chapels, 3 museums, the graves of soldiers from more than 20 countries.
Recycled Gravesites
More than 1.5 million people have been buried at Ohlsdorf Cemetery in more than 280,000 burial sites. You may wonder why there are so many burials but a far fewer number of burial sites.
Under German law, families may lease gravesites for 15 to 30 years at a cost of up to $5,000. Then if the family is unable, unwilling, or unavailable to renew the rental agreement – for up to $5,000 again – the remains are removed and the grave is relinquished to another family.
Shortly before the lease ends, a sticker is placed on the gravestones to remind families that time is running out. If no one responds, the remains in the graves are unearthed and buried a little deeper, Then the new grave tenant is placed nearer to the surface.
Beautiful Grounds that Attract Tourists
In addition to being used as a burial ground, the cemetery is also used as a recreational area and tourist attraction. Ohlsdorf Cemetery's impressive mausoleums, ponds, birds, sculptures, and rhododendron bushes attract about two million people from all over the world each year.
Gardens
Established in 1877, the Ohlsdorf Cemetery is known as a garden cemetery. There are specific sections for different types of gardens, such as the rose garden with more than 50 different species.
# 3 of the Largest Cemeteries in the World:
Abraham Lincoln National Cemetery
Chicago, Illinois
The Abraham Lincoln National Cemetery is the 3rd largest in the world with more than 400,000 planned burial sites. It is located about 50 miles (80 km) southwest of Chicago, Illinois.
Dedicated in 1999 by the Department of Veterans Affairs, the cemetery is named after President Abraham Lincoln, the 16th President of the United States.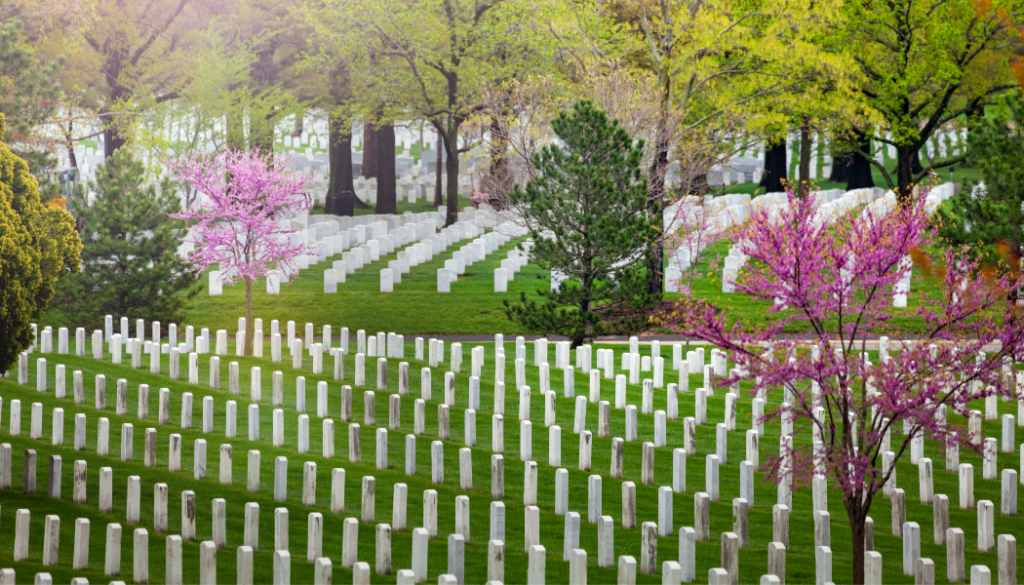 How are military gravestones spaced so precisely? The old fashioned way, with string, a measuring tape, and lots of patience!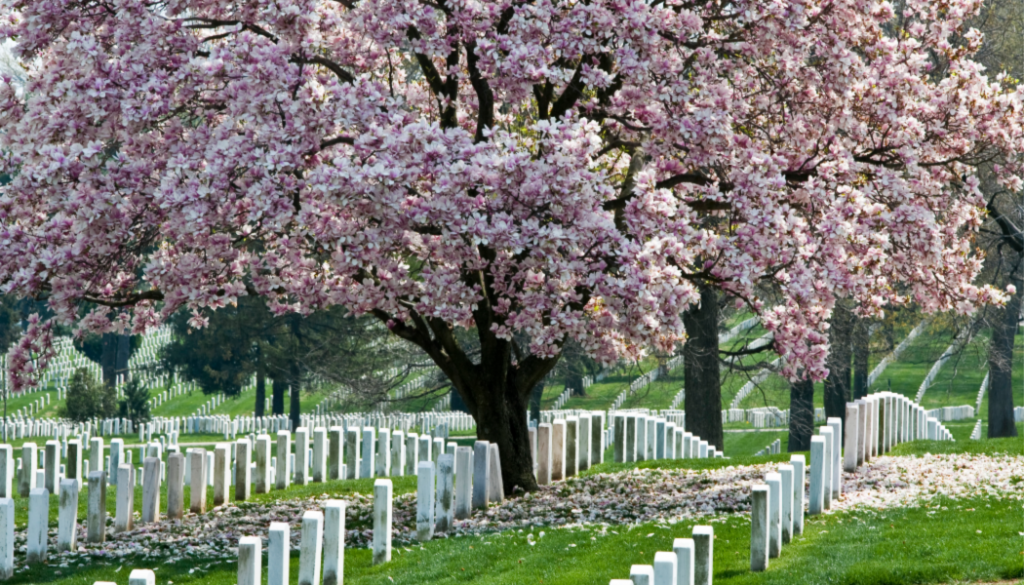 Burial Guidelines
The National Cemetery Administration Guidelines state, "Burial in a national cemetery is open to all members of the armed forces who have met a minimum active duty service requirement and were discharged under conditions other than dishonorable.
"A Veteran's spouse, widow or widower, minor dependent children, and under certain conditions, unmarried adult children with disabilities may also be eligible for burial. Eligible spouses and children may be buried even if they predecease the Veteran."
# 2 of the Largest Cemeteries in the World:
Calverton National Cemetery
Calverton, New York
Calverton is the second largest cemetery in the world, and one of the most active national cemeteries overseen by the National Cemetery Administration.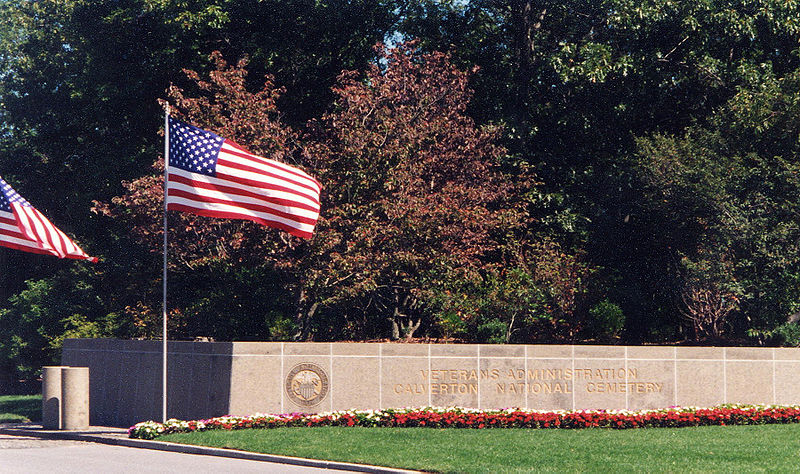 Soon after its construction in 1978, The National Cemetery System realized that Calverton National Cemetery was quickly becoming one of its busiest cemeteries.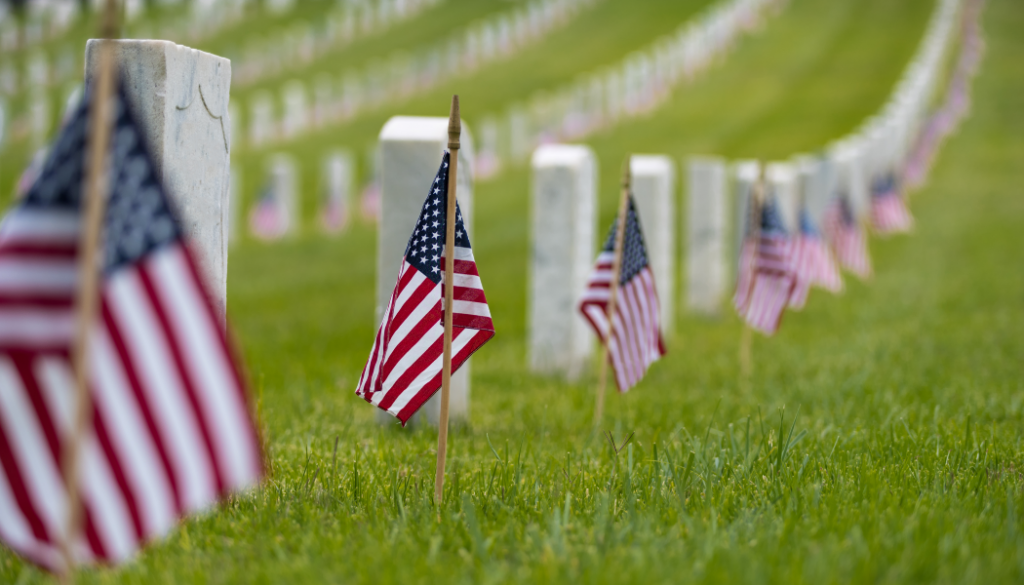 To handle the large number of funerals taking place there, seven open-air shelters were built near the main entrance where funeral services could be held. After the service, caskets were moved to their respective grave sites. Then just one floral arrangement was taken to the grave.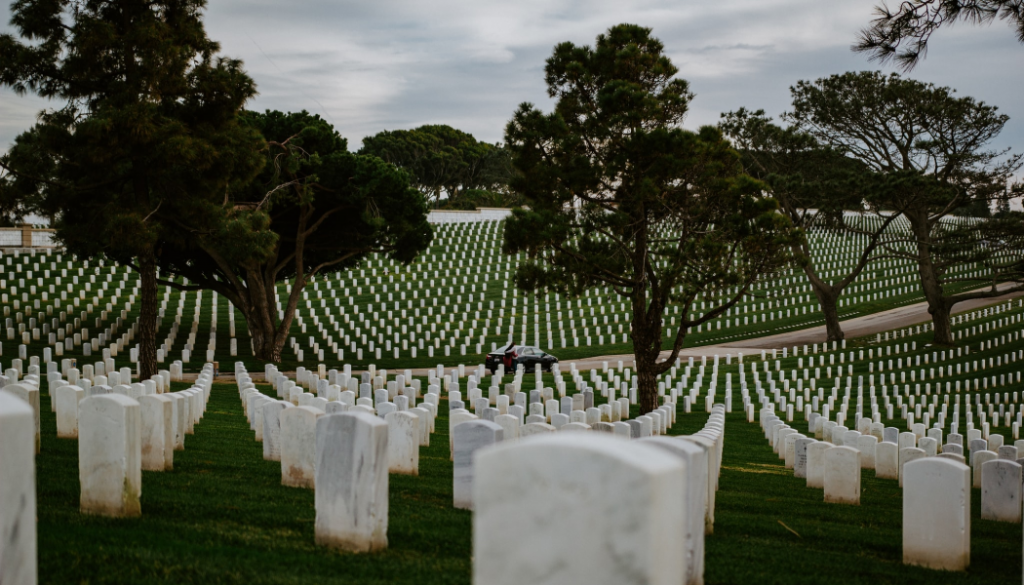 In 1983, the walls were added to the shelters to enclosed them so they could serve as columbaria for cremated remains.
Largest Cemetery in the World:
Wadi-us-Salaam
Najaf, Iraq
Wadi-us-Salaam or Valley of Peace is the largest cemetery in the world. It spans nearly 1500 acres (600 hectares) and contains approximately 5 million interments. That is 15 square miles (39 km²) of grave sites!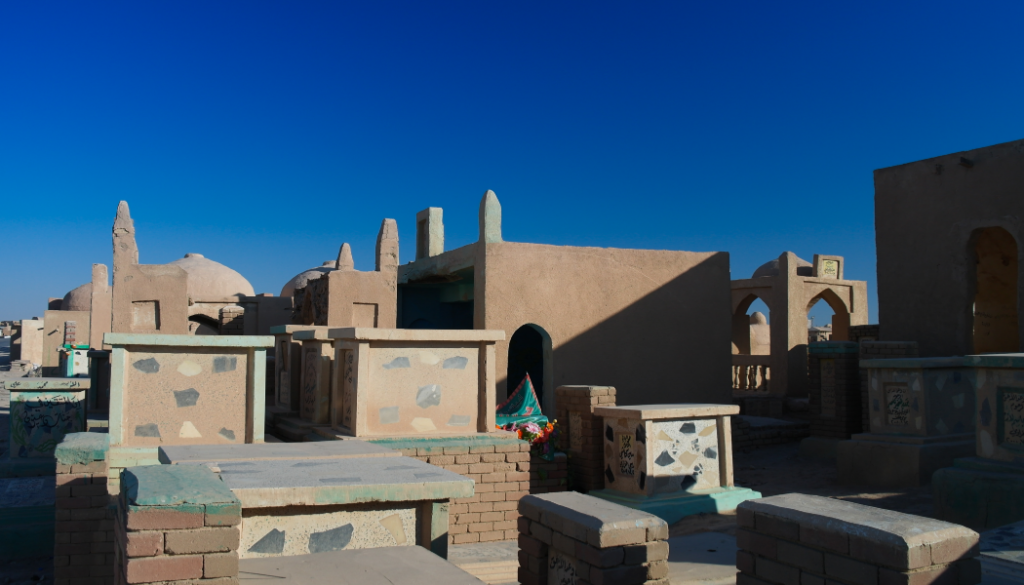 Shia Muslims take the name of the Wadi-us-Salaam or the Valley of Peace quite literally, trusting that this is the cemetery that will give them peace and tranquility for all eternity. Thus, Shia Muslims from both inside and outside of Iraq arrange to be buried here.
Visitors who would like to see the graves of the two most famous burials here, Hud a prophet of ancient Arabia and his successor, Saleh, both of whom are mentioned in the Qur'an, should be prepared to walk about two miles between them.
_______________
Coronavirus Updates
Most cemeteries are open during the coronavirus pandemic and are great places to get outside to exercise, enjoy some sunshine, and take photos with the BillionGraves app – all while social distancing.
However, tours and events may limit the number of participants or may even be canceled, so please check with each individual cemetery if you plan to visit for those purposes.
_________________
Help Document a Cemetery
BillionGraves would love to have YOU help take photos of gravestones in cemeteries around the world or from wherever you call home!

Take Photos of Gravestones with Your Smartphone!
If headstones could talk, they would have a lot of stories to tell. But they can't, so BillionGraves is the next best thing. As gravestones deteriorate, those stories are quickly fading away. We need to capture them before it's too late.
BillionGraves' goal is to preserve cemetery data and make it readily available for genealogical research to honor our ancestors and loved ones. Then, even if a loved one's gravestone is damaged or worn by time, the invaluable information recorded at their final resting place will still be available.
As you take photos with the BillionGraves app, each gravestone is automatically marked with a GPS location. The data is then made readily available at BillionGraves.com for free for millions of families around the globe for generations to come.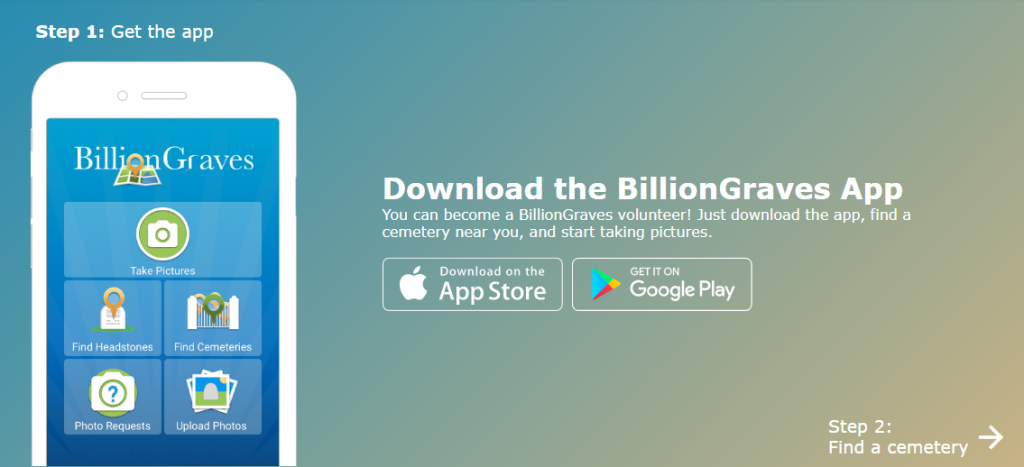 Getting Started
1. Download the BillionGraves app to your smartphone from your app store.
2. Create a free account on the app or at BillionGraves.com.
3. In the app, click on "take pictures" to begin taking photos in your local cemetery. The GPS coordinates will automatically be recorded.
4. Go up and down the rows, taking pictures of each gravestone until you have completed an entire section or the entire cemetery. Keep moving at a quick pace. If you take 1 photo every 15 seconds you will have taken almost 250 photos in an hour!
5. When you are finished, connect to Wi-Fi and tap on the "X" in the corner of your screen. When the orange button that says "upload" appears, tap on it to submit your gravestone photos.
6. Repeat! 🙂
Photo-taking Tips:
Stand to the side to avoid casting a shadow.
Remove weeds, grass, or other debris that may block gravestone information.
Be sure names and dates are inside the photo frame.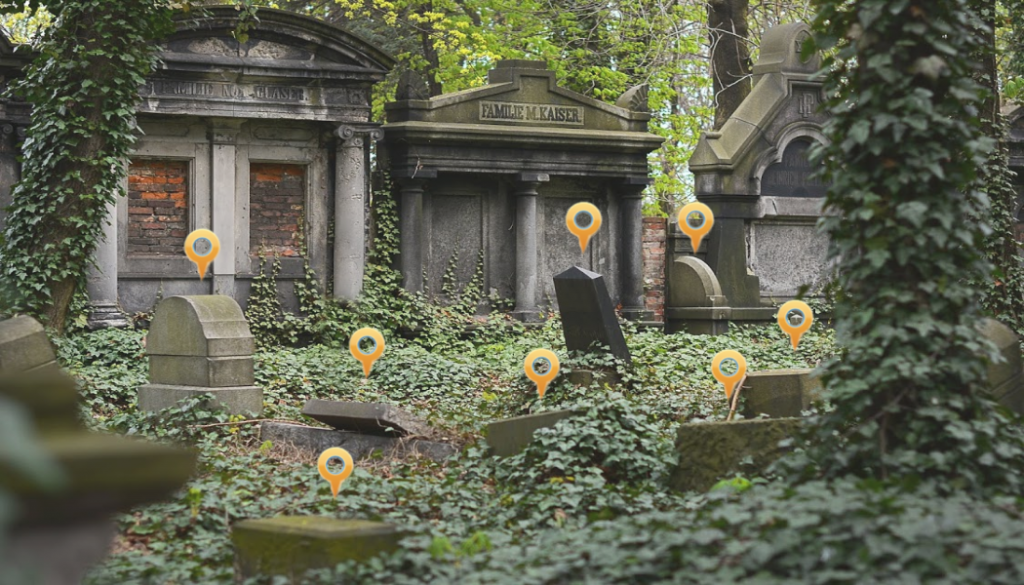 Linking Photos with the BillionGraves App
If a gravestone has data on more than one side (for example, parents on one side and children on the other side) there is a way to link them together. Just click on the chain icon in the corner of your screen between each photo that you would like to link (front side, chain icon, backside).
You can use this linking feature for obelisks that have data on four sides. You can also use it to link a large gravestone with a family surname on it to nearby smaller gravestones with the family member's first names on them.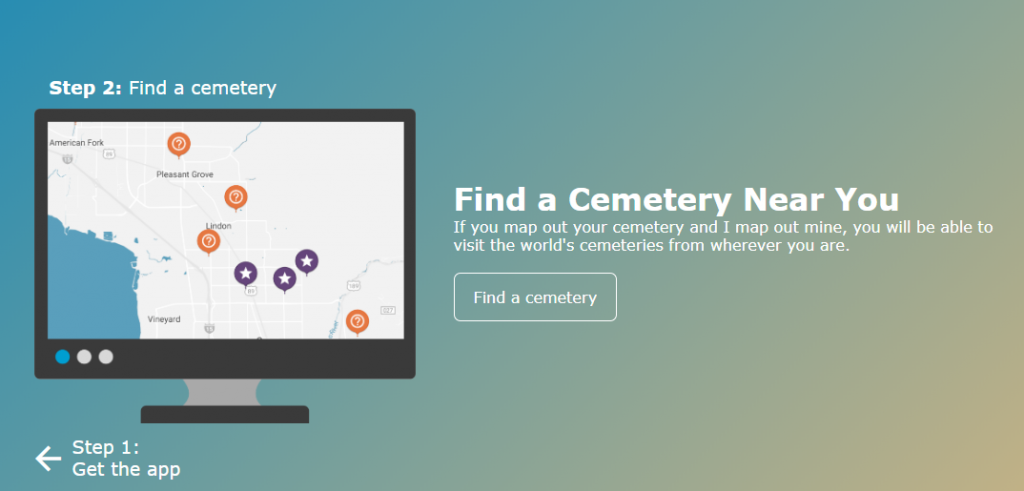 Find a Cemetery to Document
Click HERE to go to the volunteer page to find a cemetery to document.
Click on the cemetery you are interested in. A map will appear.
The orange dots on the map indicate where GPS-linked photos have already been taken. If there are areas with gravestones that have no pins, then your service is needed to photograph that section of the cemetery.
Upload Your Photos
When you are finished taking photos for the day, you can upload your photos right at the cemetery, if you have unlimited data, or you can wait until you connect to Wi-Fi to upload them.
From the app's camera screen, click on the "X" in the corner of your phone screen. An orange button that says "upload" will appear. Tap it and your photos will automatically be sent to the BillionGraves database to help families find their ancestors and bless generations to come!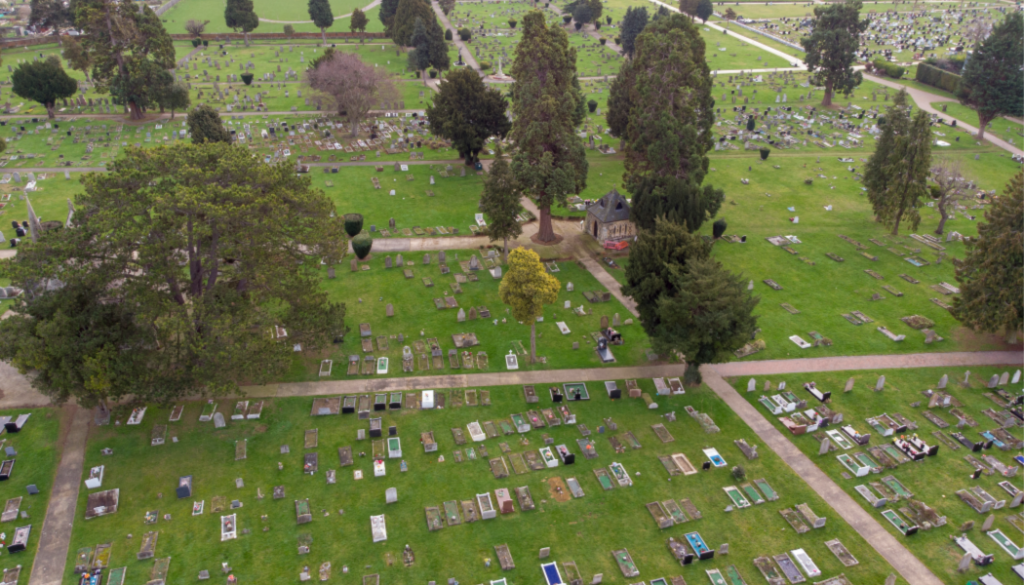 _______________
Happy Cemetery Adventures!
We hope you have some happy cemetery adventures, exploring history, sculpture, architecture, and nature whether you are in one of the largest cemeteries in the world or at a burial grounds in your own community!
If you would like to take gravestone photos, click HERE to get started. You are welcome to do this at your own convenience, no permission from us is needed. If you still have questions or concerns after you have clicked on the link to get started, you can email us at Volunteer@BillionGraves.com.
Thanks a Billion!
Cathy Wallace and the BillionGraves Team
Related posts