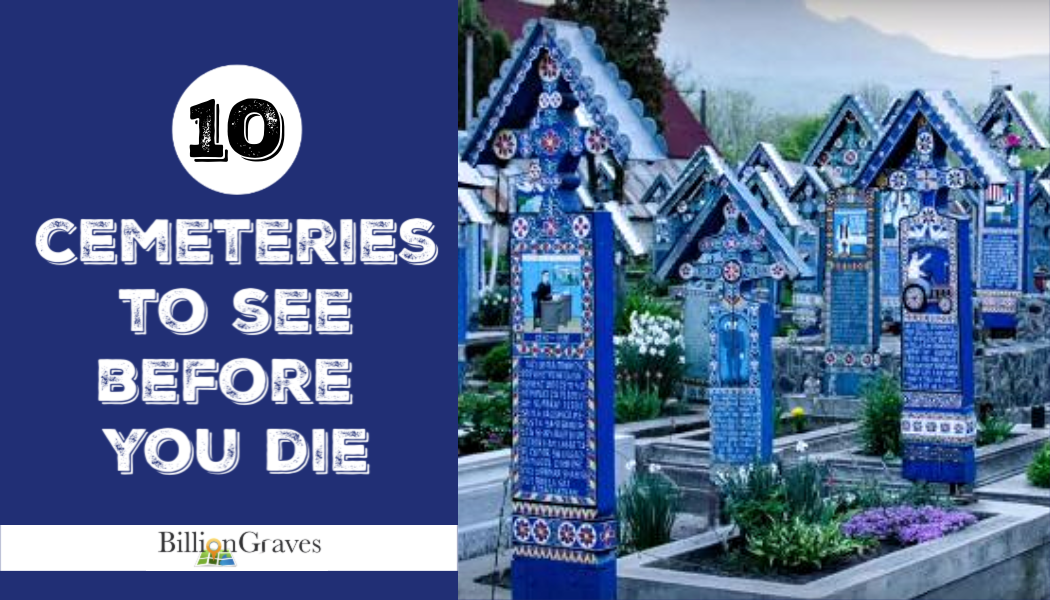 10 Cemeteries to See Before You Die
Cathy Wallace, 4 years ago
9 min

read
20575
Pull out your bucket list and a pen! Here are 10 not-to-be-missed cemeteries you'll want to see before you die!
I can't tell you how many people have said to us in hushed voices, as though sharing a secret confidence, "You know, I actually really like going to cemeteries. I know that sounds strange, but I do."
Well, here at BillionGraves, we've heard it often enough to know that it's not strange at all. Cemeteries can be amazingly beautiful. From their park-like settings, where visitors can picnic or go for a walk, to their breath-taking sculptures that rival those in any art museum – cemeteries can just be awesome places to hangout.
So if you are planning a vacation, you may want to add one of these 10 cemeteries to your agenda. Or choose one of your own. And don't forget to pull out your smartphone to snap some photos with your BillionGraves app as you are strolling along!
10 Cemeteries to See Before You Die . . . #1 Waverley Cemetery, New South Wales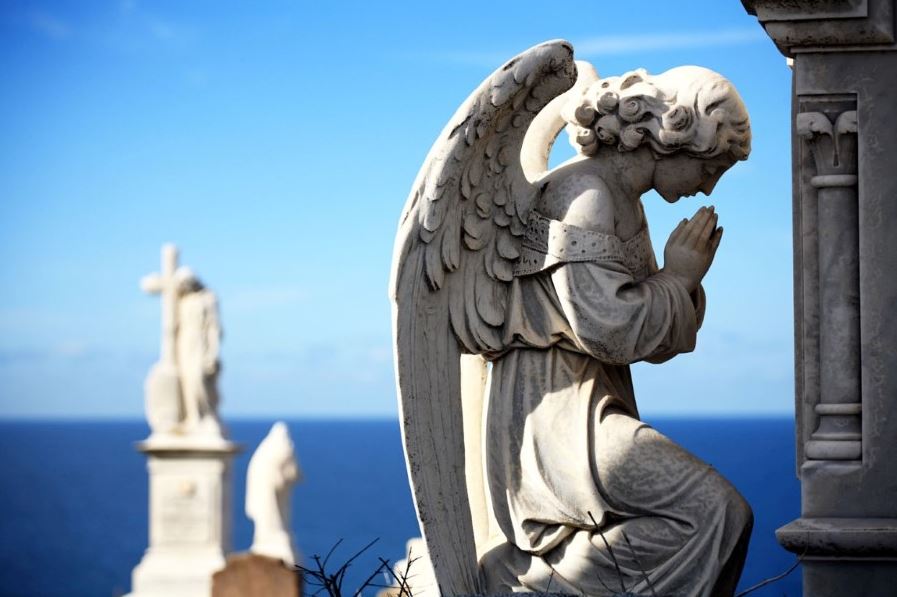 Founded in 1877, the 40-acre gorgeous Waverley cemetery sits atop a cliff overlooking the sea. Snow white statues are set against a backdrop of turquoise ocean waters.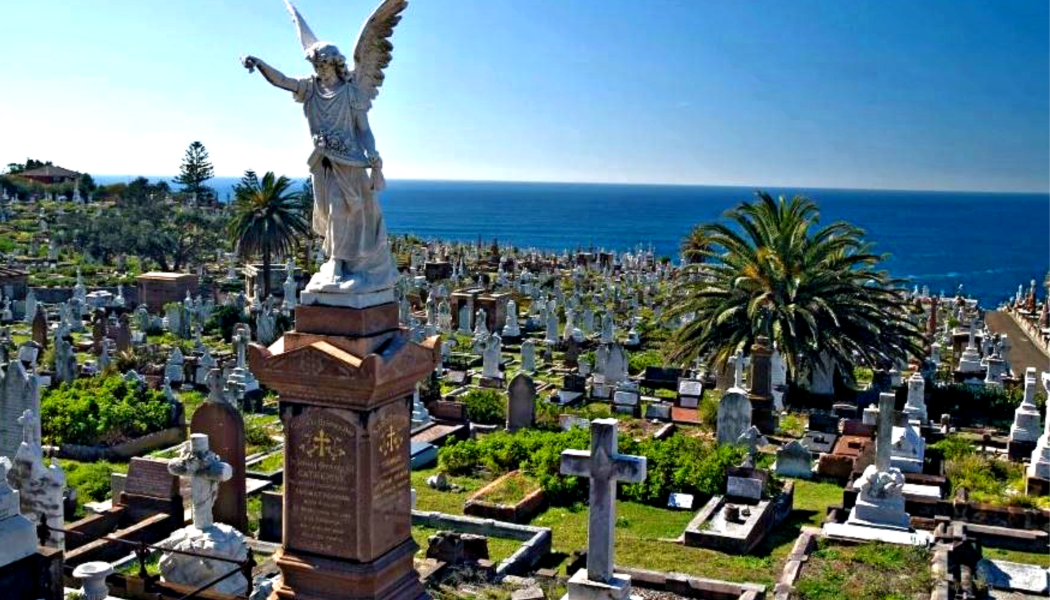 Buried at this cemetery are some of the region's earliest entrepreneurs – shoe shop owners, candle and soap makers, dairy farmers, meat pie bakers, theater owners, booksellers, and emu ranchers!
Use your BillionGraves app to find the grave of the renown magician Dante the Great or champion swimmer and boxer, Harold Hardwick.
10 Cemeteries to See Before You Die . . . #2 Bonaventure Cemetery, Savannah, Georgia
Savannah, Georgia's Bonaventure Cemetery has lacy Spanish moss dripping from every tree branch, making the statues look like they are on a curtained stage.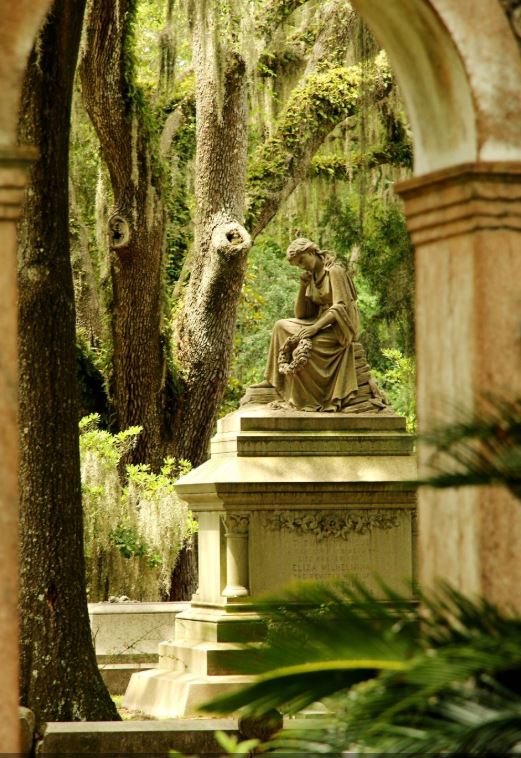 The local historical society offers free tours twice a month and the property is completely drivable. TripAdvisor notes that this "charming site" has been has been a "world-famous tourist destination for more than 150 years."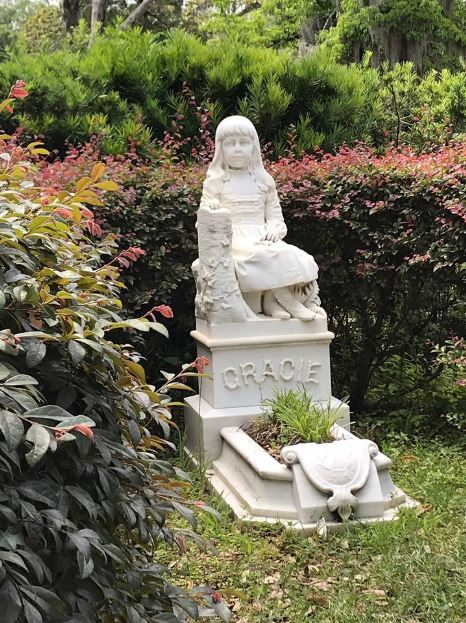 Little Gracie Watson, the daughter of a Savannah hotel manager, was the center of attention at the huge Victorian establishment. She became popular with visitors and locals alike.
But Gracie became even more well-known in death. She died of pneumonia at the age of six and a life-size statue was created in her memory.
Since that time, for more than a century visitors have brought toys to leave near Gracie's statue, especially at Christmas time.
And then a rumor spread, saying that if students rubbed the tip of Gracie's nose they would get good grades. In the succeeding years, so many students tested that theory that the end of her nose was worn right off! Hence Gracie's statue is now behind bars for its own protection (with a new nose-job!).
10 Cemeteries to See Before You Die . . . #3 Arlington National Cemetery, Arlington, Virginia
More than 4 million tourists visit Arlington National Cemetery each year. They have plenty of room to explore though because the cemetery spans 624 acres with more than 400,000 graves.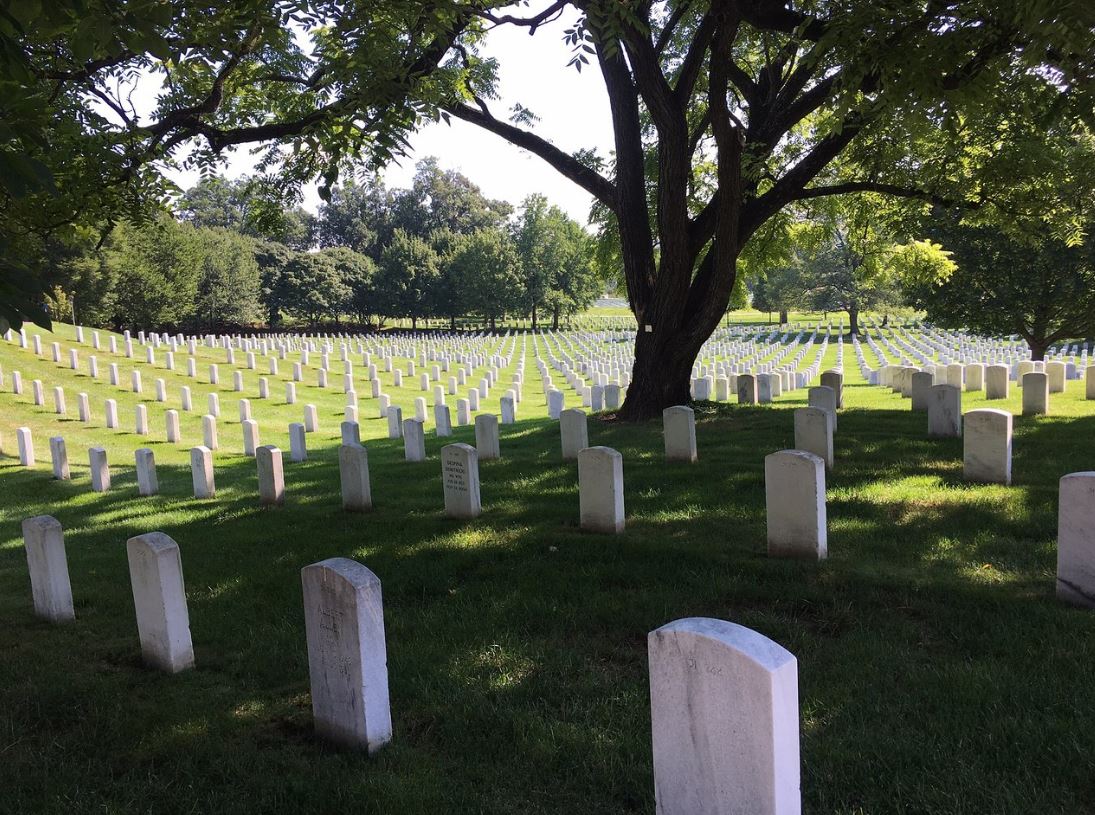 At the top of a hill at Arlington National Cemetery rests The Tomb of the Unknown Soldier. The unidentified soldier who is buried there is symbolic of all servicemen and women whose remains were not able to be returned to their families.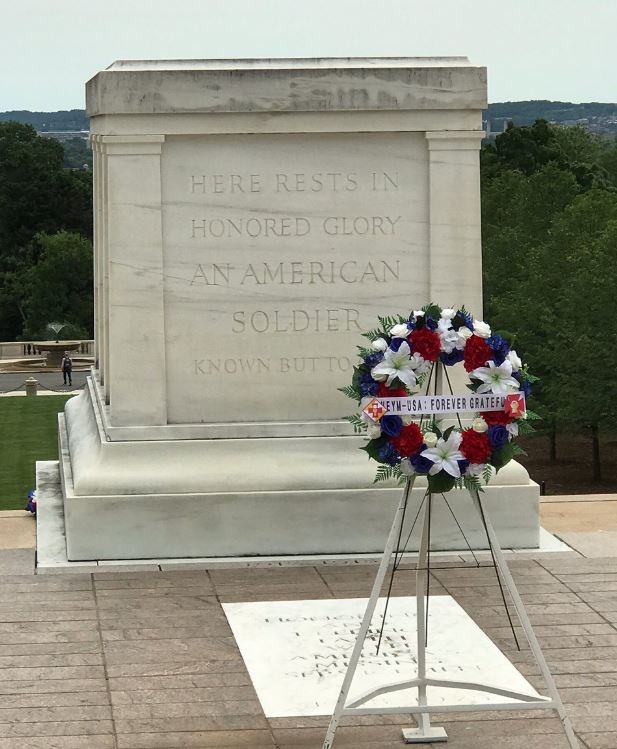 In fact, there are tombs there for unknown soldiers from four wars: World War I, World War II, the Korean War, and Vietnam. Inscribed on the tomb sarcophagus are the words, "Here rests in honored glory an American soldier known but to God."
However, the Vietnam coffin is now empty. Thanks to a mitochondrial DNA test – and a little genealogical work – the soldier was identified and his body was returned to his loved ones.
10 Cemeteries to See Before You Die . . . #4 Cimitirul Vesel, Sapanta, Romania
In 1936, Stan Patras began carving crosses to mark the graves of community members in his small town. And for more than forty years he kept carving, eventually completing several hundred crosses.
And they weren't just ordinary planks of wood cobbled together either. Each one was uniquely designed for the deceased. Then when Patras finished carving, he took up his paintbrush and added brilliant colors to the memorials.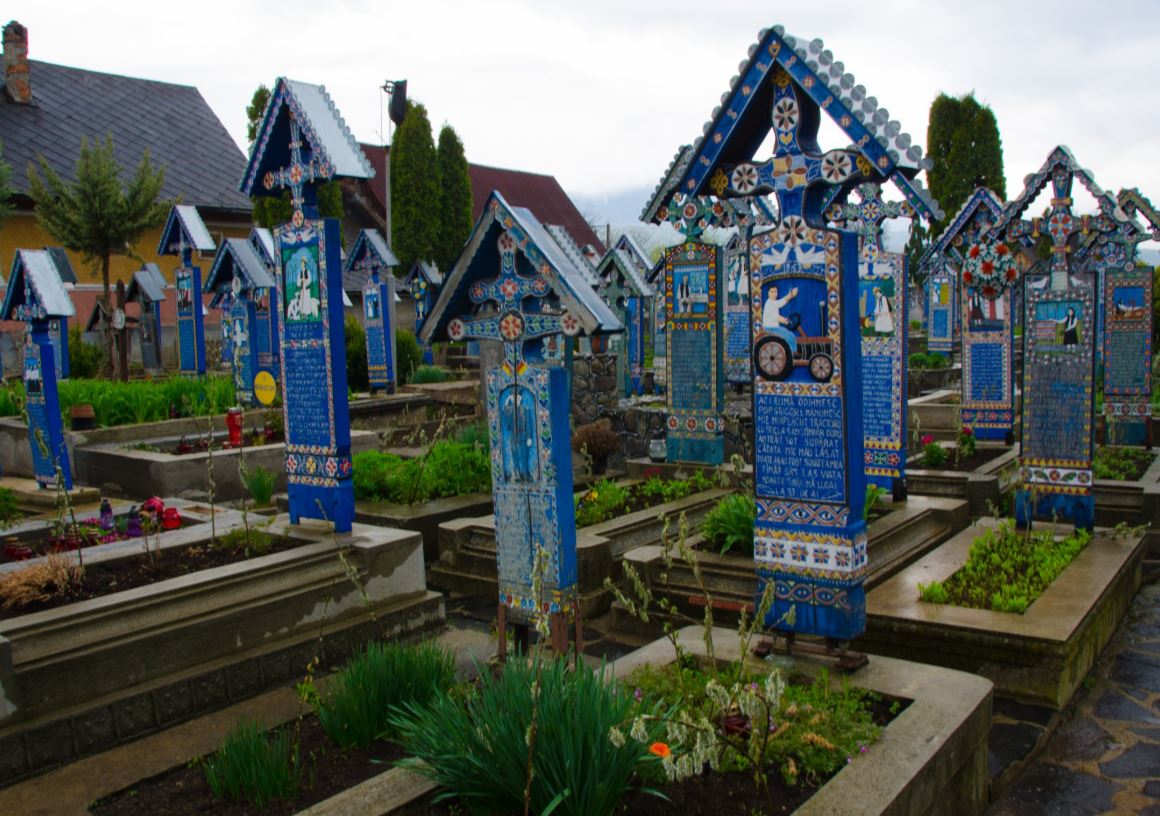 Patras memorialized the deceased by carving their occupation, hobby, or talent. There are shepherds tending their sheep, mothers cooking, coal miners, and musicians playing the violin.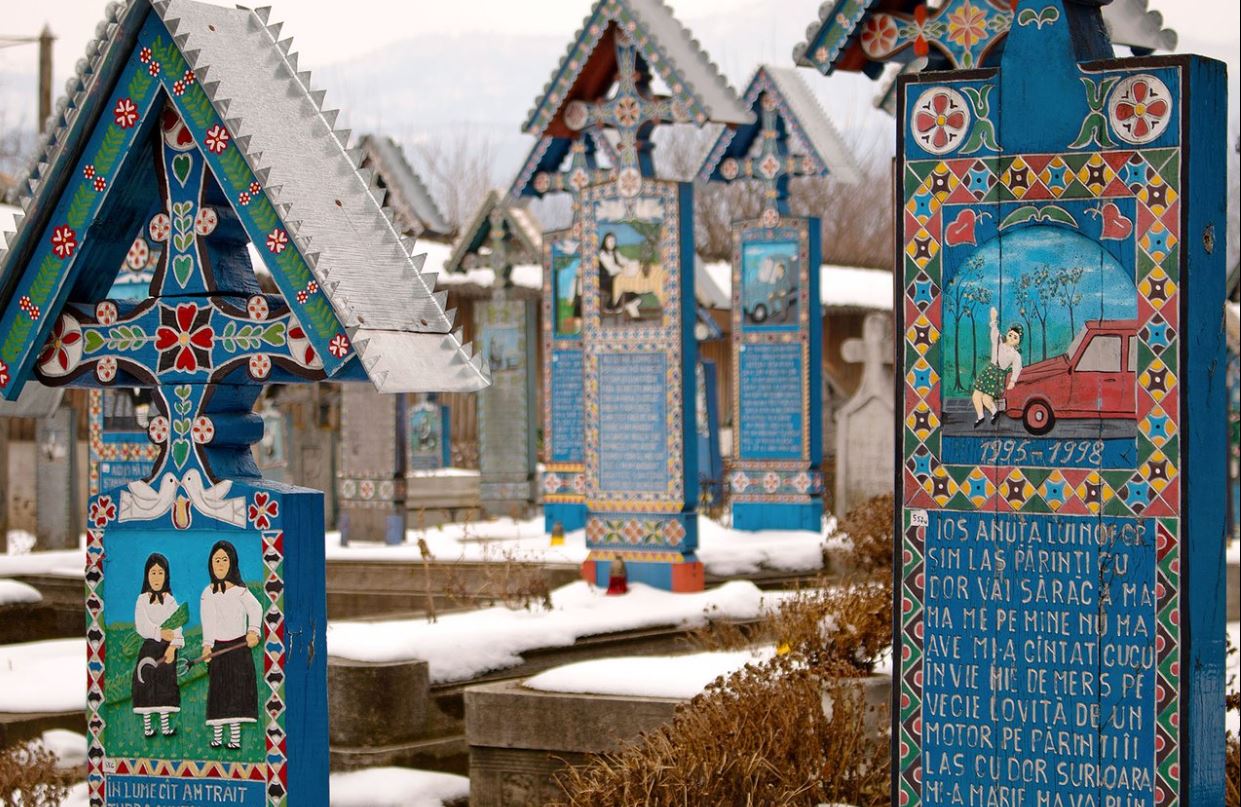 For others, Patras designed grave markers that showed how they died, such as a girl that was hit by a car and one with a drowning boy. He didn't confine himself to traditional flowery epitaphs either. Inscriptions include references to cheating, priests that envy the wicked, drunkards, and mother-in-law jokes.
Before Patras died, he carved his own memorial including a self-portrait. His epitaph notes that he supported his family financially from the time he was 14-years-old.
To this day, Patras' work is being carried on by his apprentice, Dumitru Pop. Pop carves and paints 20 -30 grave markers each year, as needed.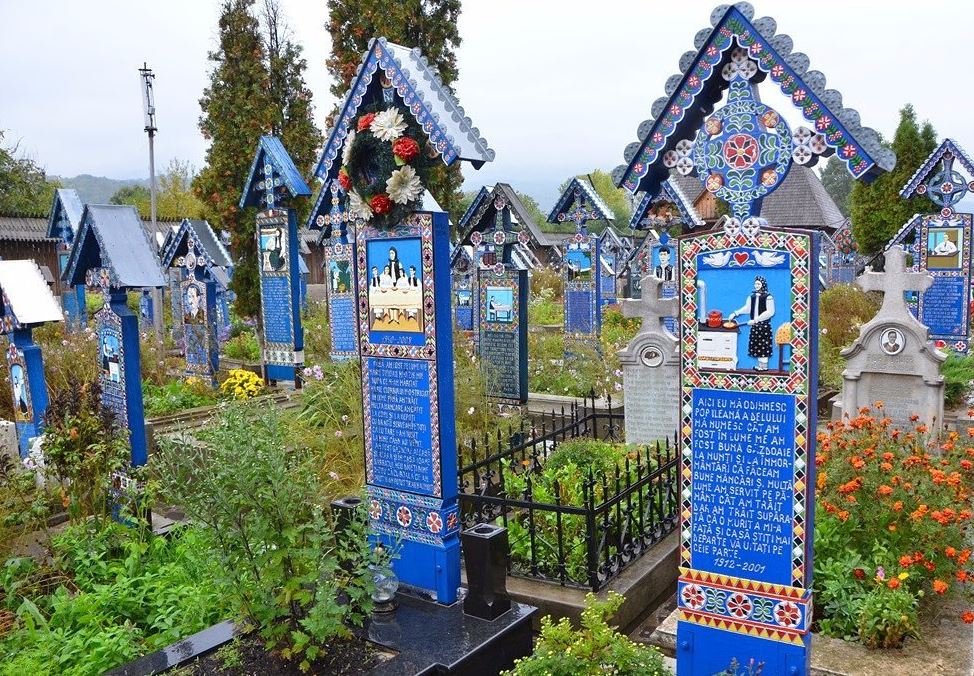 This delightful burial ground is called Merry Cemetery. It's a fitting name for a place that makes visitors smile.
10 Cemeteries to See Before You Die . . . #5 Granary Burying Ground, Boston, Massachusetts
The Granary Burying Ground, situated in the heart of Boston, was established in 1660 – only 40 years after Pilgrims set foot on Plymouth Rock.
The name "granary" came from the 12,000-bushel grain storage facility built nearby in 1729 to provide for the needy.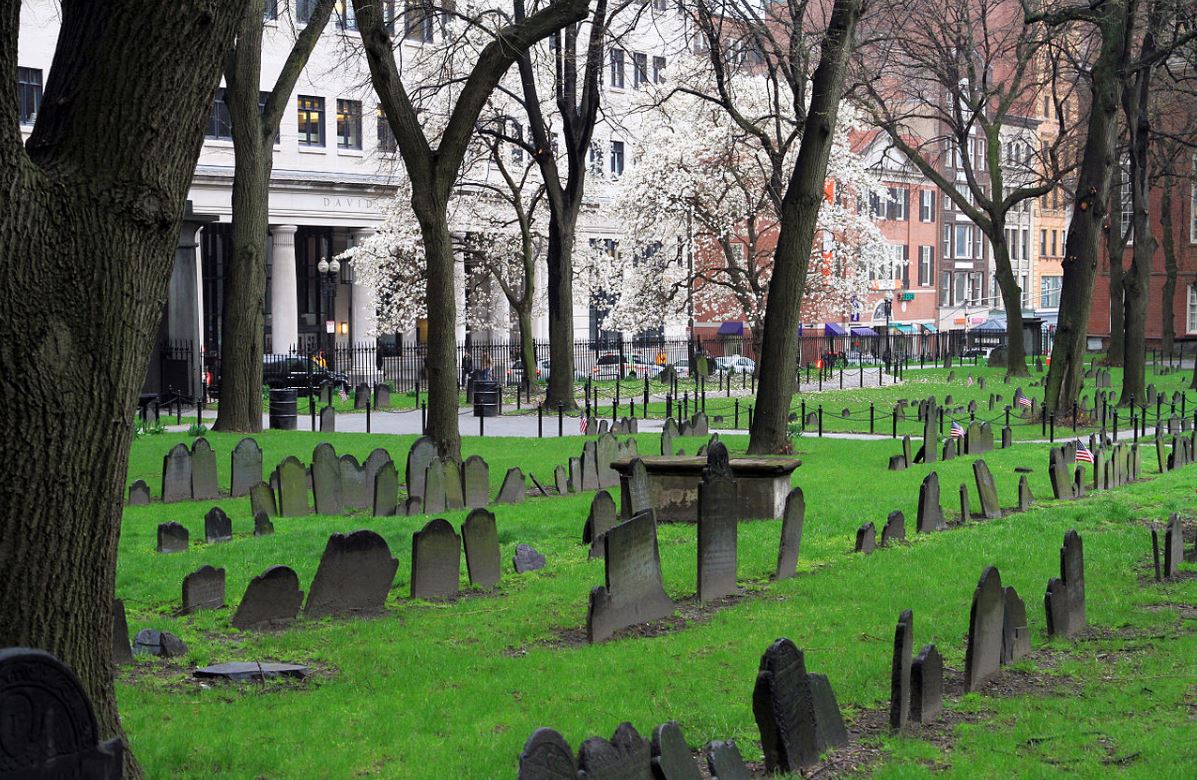 There are 2,345 gravestones on the 2-acre lot, though it is believed that more than 8,000 people are buried there. Some were interred in mass graves, while others had headstones that have since decayed or been lost.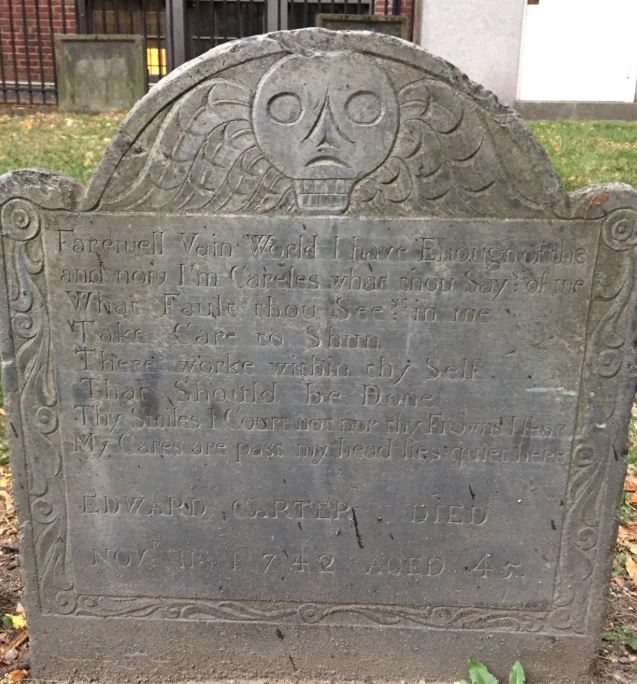 The most common symbol on the gravestones at Granary Burying Ground is the winged skull which represents the soul of the deceased flying to heaven.
The cemetery is a hot-spot for tourism since it is on the Freedom Trail and also the final resting place for many Revolutionary War patriots, including Paul Revere, Samuel Adams, and John Hancock. One visitor said, "It made me feel humble to walk among the graves of so many great people."
10 Cemeteries to See Before You Die . . . #6 Cimitero Monumentale di Staglieno, Genoa, Italy
While other cemeteries of its day were built to solve problems – such as overcrowded churchyards or an increase in deaths after an epidemic – Monumental Cemetery was constructed for beauty.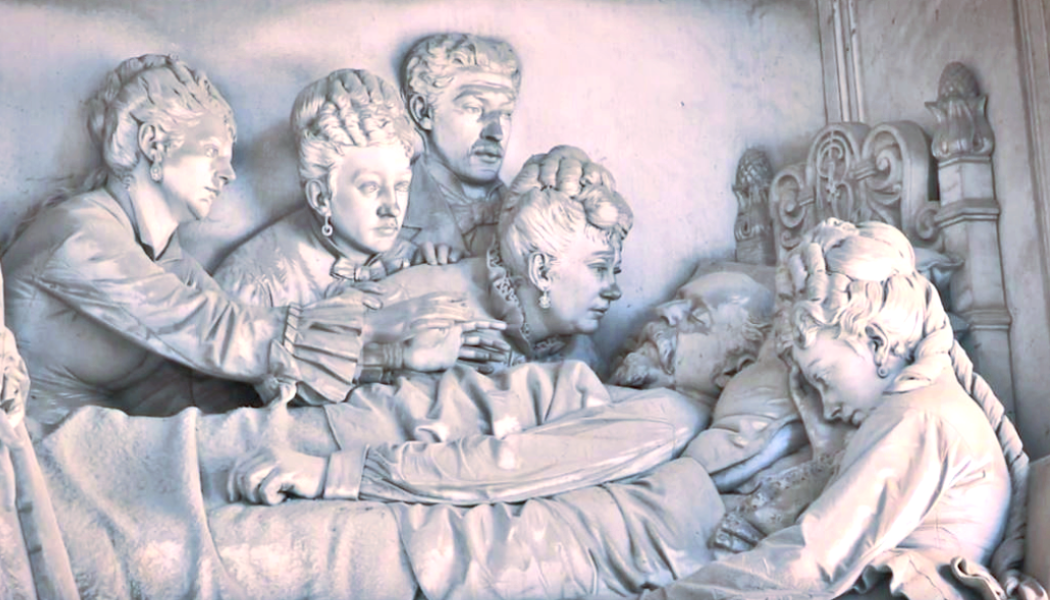 And since its beginnings in 1886, this cemetery has indeed often been noted as being one of the most beautiful cemeteries in the world. This is due in large part to Monumental Cemetery's amazing statues. It is filled with one-of-a-kind marble sculptures that would rival those in any world-class art museum.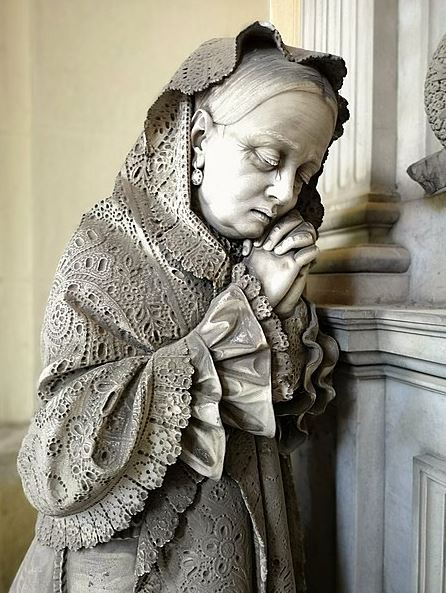 In fact, many wealthy Italians commissioned their hand-carved statues years before they died so they would have a chance to enjoy them before they passed away.
Bring your walking shoes if you visit this Staglieno cemetery. There are more than 117,000 gravesites spanning 250 acres!
10 Cemeteries to See Before You Die . . . #7 Sunset Hills Cemetery, Flint, Michigan
Another cemetery with amazing statues is Sunset Hills in Flint, Michigan. The artwork is so authentic that visitors frequently mistake the life-size sculptures for real people.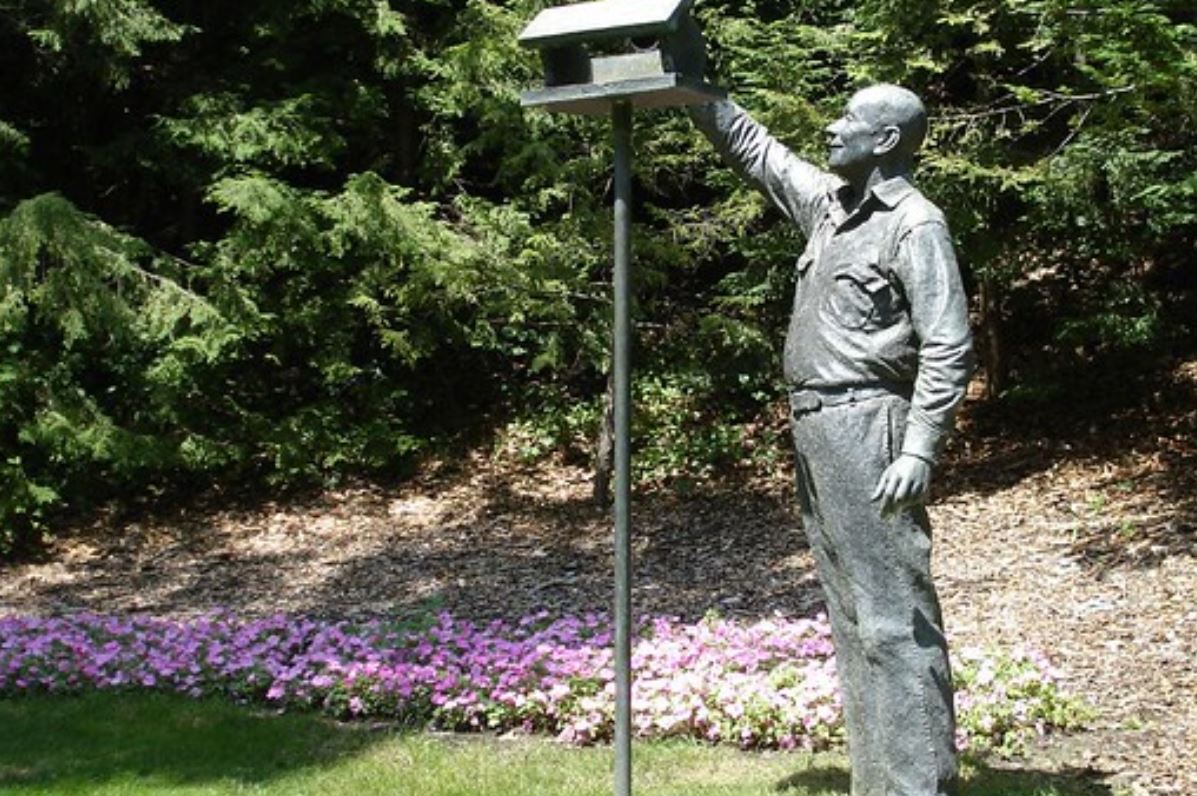 Near the entrance is a bronze figure of a man using a tin can to fill a real bird feeder. It is a likeness of Albert Koegel, founder of the Koegel hot dog company.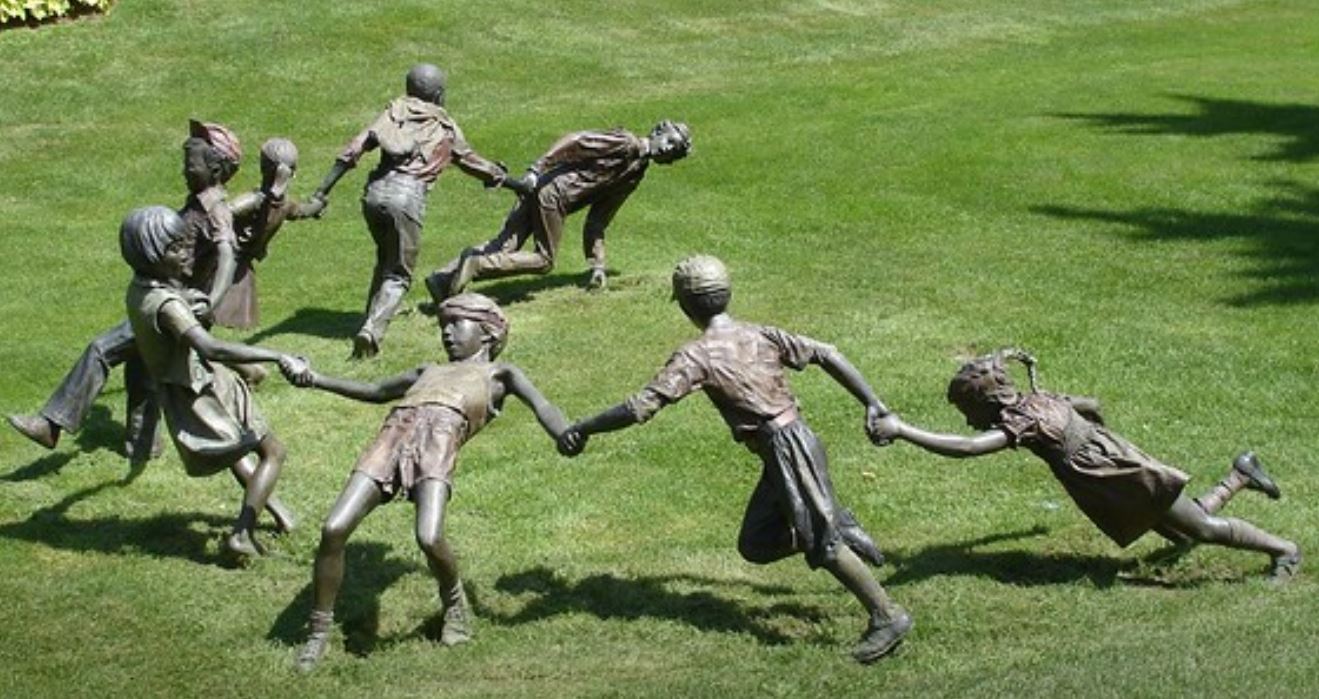 An anonymous Flint-area donor commissioned a detailed sculpture of eight children playing a game of crack-the-whip. The patron's family is buried at Sunset Hills Cemetery.
10 Cemeteries to See Before You Die . . . #8 Neptune Memorial Reef, International Waters near Key Biscayne, Florida
Okay, you better not use the BillionGraves app at this cemetery or you might ruin your smartphone! In fact, you might want to make your only live visit there this virtual one – unless you are a scuba diver!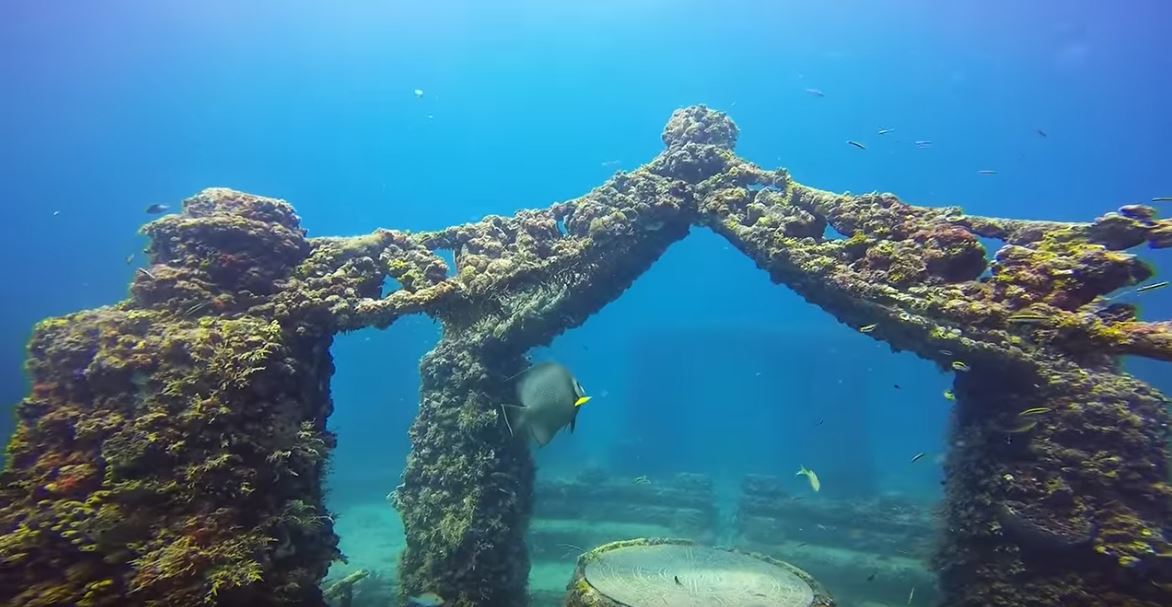 Neptune Memorial Reef is located 3.25 miles in International Waters off the coast of Key Biscayne, Florida. It is not only considered the world's most beautiful underwater graveyard, but it is also an artificial reef system that helps marine wildlife flourish. Moray eels, sea urchins, puffers, spotted eagle rays, sponges, crabs, 14 species of coral, and more than 56 species of fish have made this reef their home.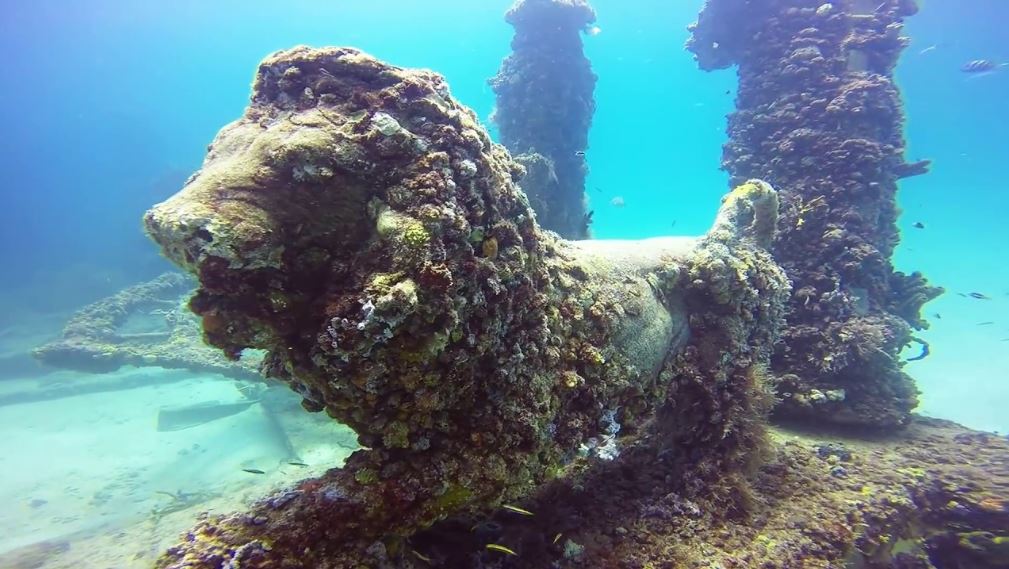 Interesting facts about Neptune Memorial Reef Cemetery:
only for cremated remains
largest man-made reef in the world, spanning 16 acres
Atlantis-inspired underwater architecture with columns and a massive lion statue
the world's oldest ship-wreck diver – a Guinness World Record holder at age 90 – is buried here
concrete memorials are customized with small momentoes like fishing lures, coins, shells, and painted rocks
10 Cemeteries to See Before You Die . . . #9 Cimetiere du Pere Lachaise, Paris, France
Pere Lachaise Cemetery, just outside of Paris, France, is the world's most visited cemetery. The land was originally owned by the Catholic confessor to Louis XIV, Francois d'Aix de La Chaise, and is named in his honor.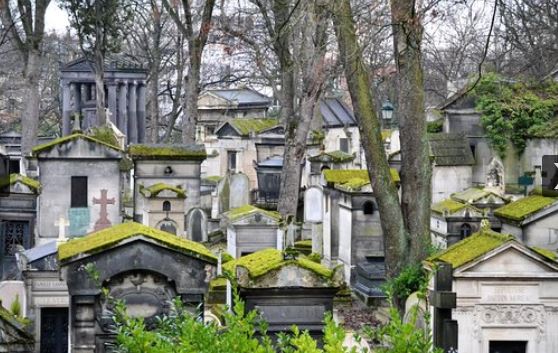 When Pere Lachaise Cemetery was opened in 1804 it was considered to have some radical ideas. It was not in a traditional churchyard setting, instead, it was a park-like setting away from the heart of the city. The cemetery was non-denominational, unheard of in its day. And families could buy burial plots in perpetuity rather than requiring bones to be exhumed and moved to an ossuary after a period of time.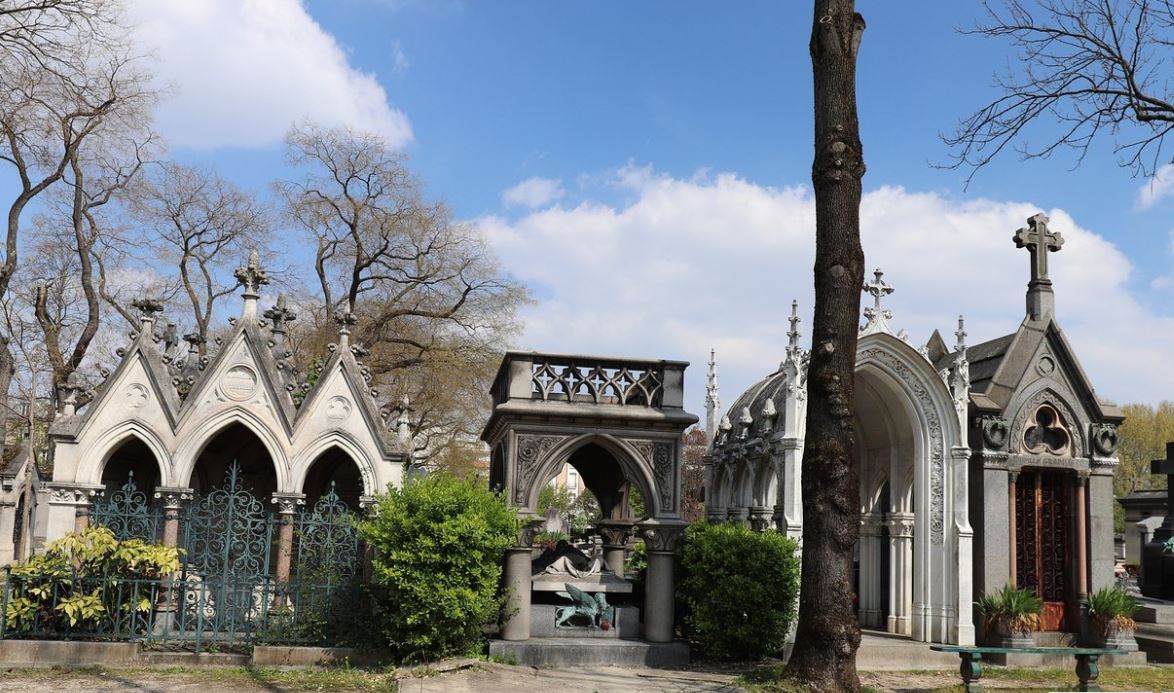 Visitors to the cemetery can step inside family sepulchers that are set up almost like little living rooms ready for guests. The walls are often lined with shelves holding family pictures and momentoes. And a bench or chair will invite you to linger for a while.
10 Cemeteries to See Before You Die . . . #10 Har HaMenuchot, Jerusalem, Israel
There are nearly 160,000 images for Har HaMenuchot, Jerusalem's largest cemetery, on the BillionGraves website.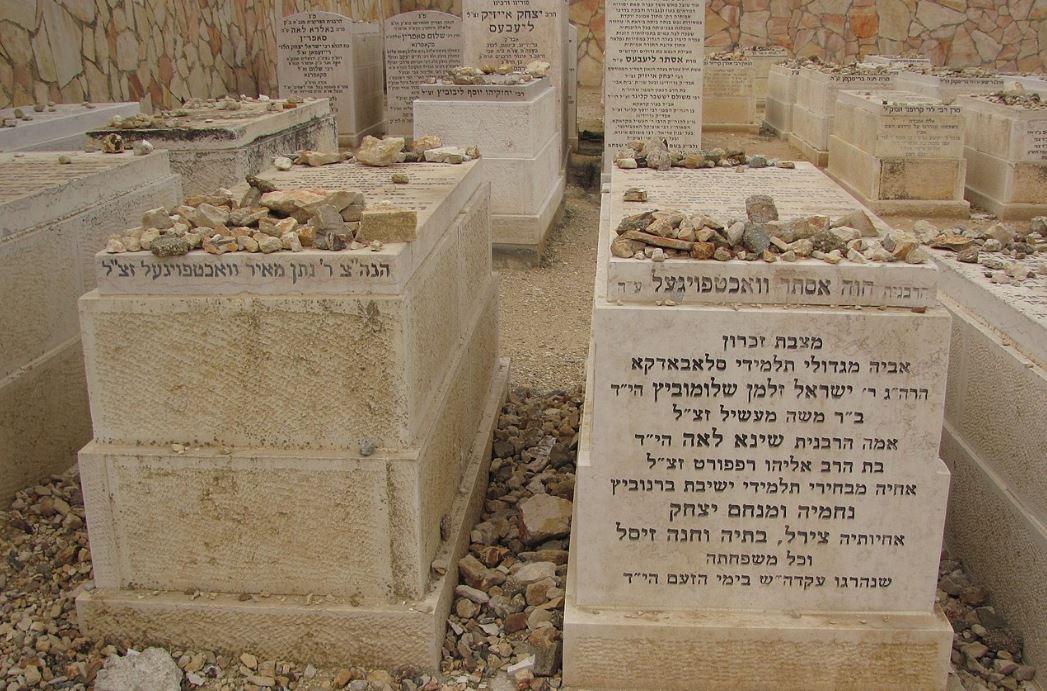 As is common in Jewish cemeteries, the gravesites at Har HaMenuchot consist of rectangular concrete monuments covered with stone tiles. The bodies are actually buried underground, beneath the platforms. Then names, dates, and epitaphs are inscribed on the top and side panels.
Letters and numbers engraved on the tiles are frequently painted for better visibility or sometimes filled with black lead for durability. Small niches are often carved into the box for memorial candles.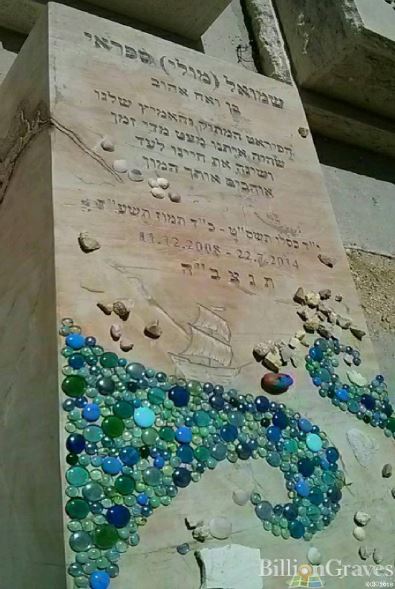 It is traditional for Jewish visitors to place a rock on the grave of a loved one each time they visit the gravesite. While some stones are placed in a pile, others are elaborately arranged to create pictures.
Have fun! These 10 cemeteries from around the world will not disappoint!
Happy Cemetery Hopping!
Cathy Wallace and The BillionGraves Team
Related posts