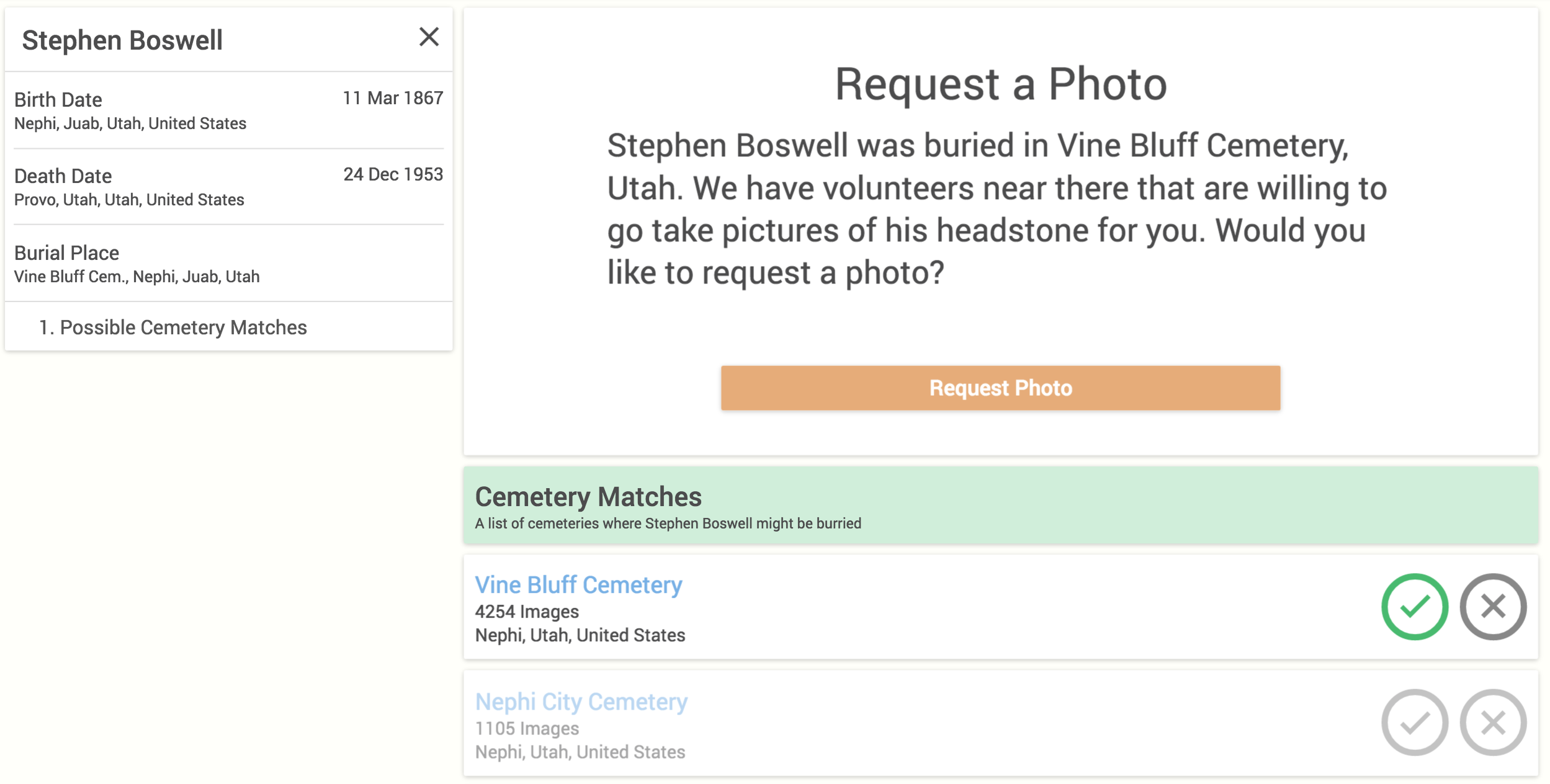 Tips and Tricks: BillionGraves Photo Requests
BillionGraves, 9 years ago
6 min

read
8540

BillionGraves Photo Requests:
Photo Requests and Maximizing their Potential!
The Photo Request tool is a great new feature on BillionGraves. It has been optimized and revamped to help the hundreds of thousands of users and requests we have at BillionGraves!
First of all, what is a BillionGraves Photo Request?
Photo Requests are requests from a BillionGraves registered user for one or more photos to be taken in a specific cemetery. The user is looking for a particular headstone and is requesting that another BillionGraves volunteer that lives nearby, go find the headstone and take a photo of it for them.
Many of you have already utilized the tremendous power of the Photo Request board and have gone to social media to share your experiences! Thank you to all of our amazing volunteers who are so eager to help other genealogists in need!
What does a Photo Request look like?
As many of you have noticed, emails of new Photo Requests are now being sent to your BillionGraves registered email for requests that are near your location.
Here is an example of a Photo Request email:

How do I Help with a New Request? 
It is very easy to help with a Photo Request! First you need to Accept the Request.
To do this, simply click on "Accept Request" in the email or on the request board HERE. By accepting the request, you are now able to communicate with the user who requested the photo. Use the comment board if you have more questions about the request, or need additional information in order to fulfill the request.
Notice that multiple people can accept the request and collaborate to get the photo, transcribe, and even provide additional sources and information regarding the grave-site. You can always accept and un-accept requests. It's very easy to do all from the request board HERE.
How do I Fulfill a New Request?
Fulfilling a request is easy. After you have accepted the request on the request board HERE, simply click on "Complete Request" on the top right corner and enter in the record information or other pertinent information to complete the Photo Request.
Please do not click on the "Complete Request" until the photo has been taken, uploaded, and transcribed into a record. If possible, please include the URL to the record pertaining to the photo request!
Already we have had thousands of requests fulfilled by users all over the world! This is an amazing tool whether you are looking for an ancestor in a far away cemetery or an amazing opportunity to help fellow genealogists find their relatives grave-site!
View this wonderful example of our BillionGraves users in action: View Example Request.
Within hours, our BillionGraves users had a photo, source records from multiple partner websites confirming the birth and death dates. City cemetery burial records and even more offerings for additional help with possible other family names! THIS is what BillionGraves and genealogy is all about! Collaboration! Thank you to all who have participated and contributed to requests!
Tip and Tricks for  Photo Requests:
Now that you know the basics of the Photo Requests, here are some tips to make the most out of these requests and to better help those looking for requests.
First thing is to please update your location on your BillionGraves dashboard! HERE
Note: Before continuing, please delete your computer browser's cache!
The request emails are generated based on your designated location on your dashboard. (Which unless you provided it for us, is automatically generated from your IP address when you registered. Which can often times be very different than your actual location!)
Don't worry, you can easily update your location, making it more accurate, by logging into your account. On the dashboard, click on the city/state under "My Location" where you can update your location.Some cities are quite large or the IP address may not be a very good predictor of your location, so in addition to just stating your city, to hone in your location even more specific, you can use the map located
HERE
:
Grab the white/grey dot in the center of the circle and drag it to your location. Then click the blue "Save" button above. This will update your requests to be more relevant to you.
WARNING: By using the map to set your exact Longitude and Latitude, you will be updating the location found on your Dashboard. Using the method of using your Longitude and Latitude, we are able to precisely measure your location. These coordinates are then recalculated to the closest City/State. Do not worry if this changes your "City/State" on your dashboard to a nearby city. If you have properly set your coordinates on the map above, you will receive updates, requests, alerts, based on your correct location.
Learn by watching? Follow along with this short video to update your location in seconds!
Planning for a trip out of the state or country? 
If you click anywhere inside the grey circle and drag it anywhere in the world, it will update the list of requests for that area.
You can also grab one of the white dots on the edge of the circle to expand your search results area! Discover where people are requesting photos around the world!With your help, we'll continue to see a LOT more requests that look like this!
Collaborating together as a team makes BillionGraves and Photo Requests a very powerful tool for genealogist around the world! Next time you are headed to the cemetery, look for any Photo Requests and take a few extra pictures for others in need! You never know when a picture can be the difference between finding your family or not! (
http://goo.gl/1ia6K6
)
As always, we are incredibly grateful to all of our volunteers and supporters around the world! We know we could not do what we love and help families around the world without your help and support!
-The BillionGraves Family!
BillionGraves is and will always be FREE for everyone to search and contribute! BillionGraves Plus is an OPTIONAL ADD-ON feature that provides enhanced insight into the records that have been collected!
*No purchase necessary to participate to earn BillionGraves Plus. This feature is available to every registered BillionGraves user. Registration to BillionGraves is 100% FREE!. Monthly totals are calculated on the first day of each month and conclude on the 1st day of the following month. Bad/flagged photos or transcriptions will not count toward monthly totals.
——————————————————————————————————————-
Want to Join BillionGraves!?
Start by registering for your free account now -> HERE
Head out to your nearest cemetery and start taking pictures!
For more help and other ways to contribute, learn more about the BillionGraves movement -> HERE
Don't forget to show the love and follow us on Facebook -> HERE
Related posts